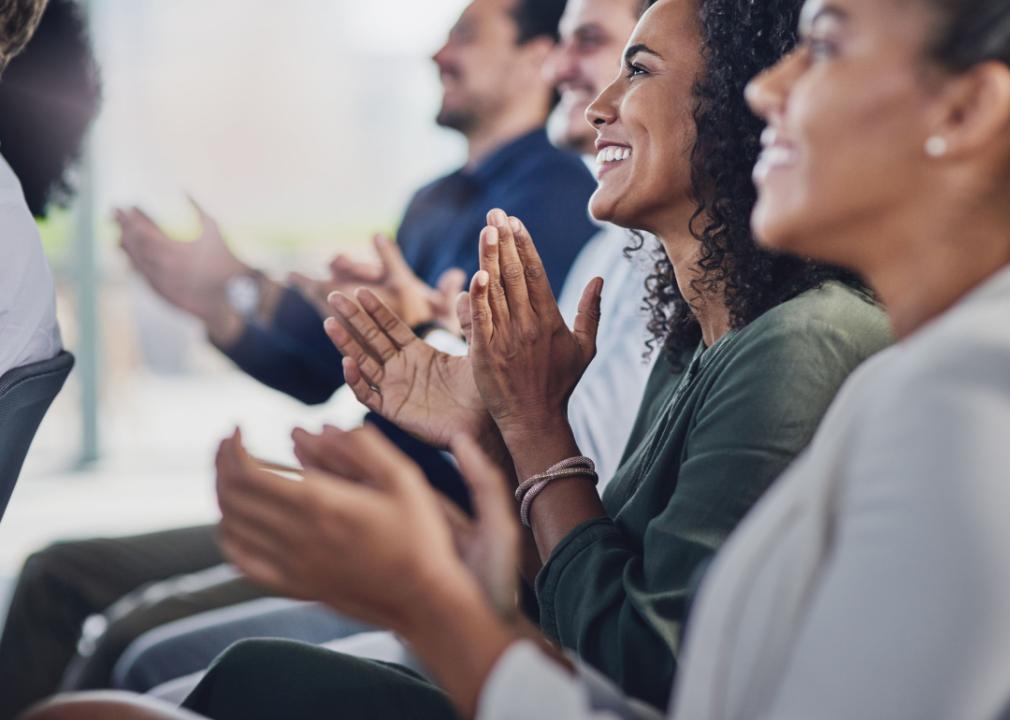 PeopleImages.com - Yuri A // Shutterstock
Experts are predicting a renaissance in the events industry after reeling from the financial fissures caused by the pandemic. By 2028, Verified Market Research predicts the events industry will bring in $2.194 trillion, nearly 2.5 times the revenue generated in 2020.
If the predictions become true, the increased revenue could offset the 20 to 50% estimated increase in event-related costs in 2023, according to a Knowland Meeting Planner Survey.
The residual impacts of the COVID-19 pandemic—like supply chain issues, labor shortages, inflation, and venue closures—are still affecting the events industry into 2023, according to a research report by The Vendry.
A push-and-pull of priorities for event organizers may play out in the coming years as brands want to create more must-attend conferences that are filled with personalized experiences while keeping focus on equity to access and opportunities and reducing the industry's well-known carbon footprint problem—both of which are easier to do through virtual conferences.
With event organizers asked to juggle so many variables, Giggster compiled a list of the 10 most common conference formats and when to use each of them using industry reports and online articles.
Micro events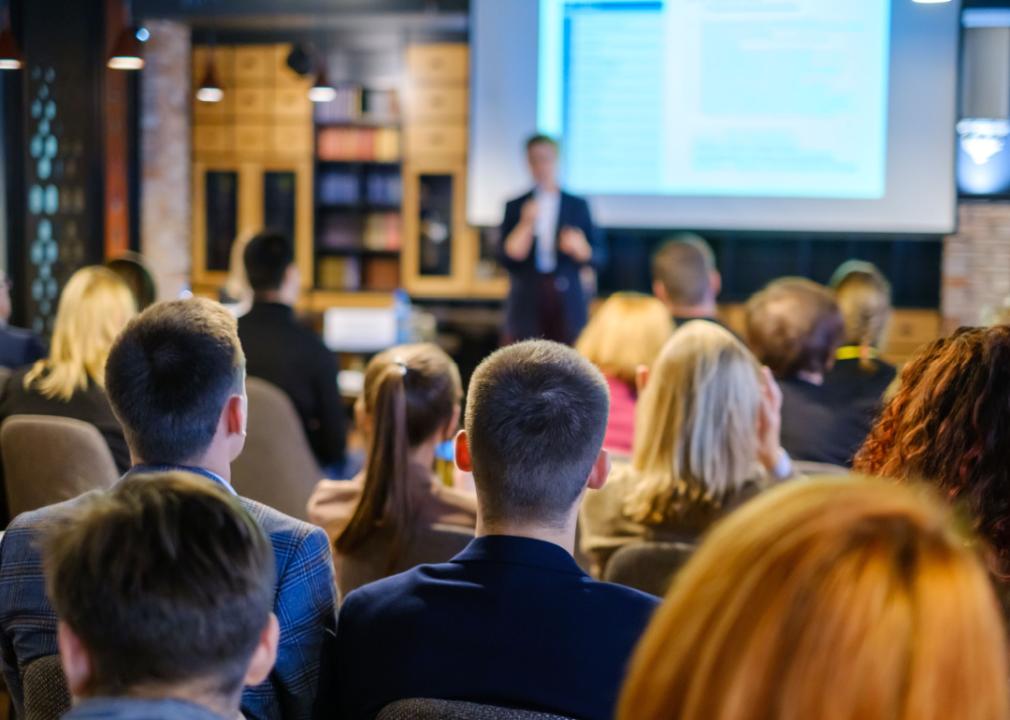 Anton Gvozdikov // Shutterstock
Micro events—smaller and/or geo-specific conferences that became trendier last year—introduced a new event format that allows for greater levels of connection than massive conventions.
Rafat Ali, CEO and founder of Skift Meetings, told The Vendry that these smaller, virtual events could act as a "testbed for more niche topics," potentially proving that an in-person event on the topic is worth the return on investment. This format allows organizers to focus on a hyper-specific audience that is more engaged in a specialized topic.
There's a sustainability perk, too: With smaller gatherings, companies don't have to create as many bespoke production materials—and what they make, they can ideally reuse or repurpose.
Speedy presentations
Momentum studio // Shutterstock
Lightning rounds, Ignite talks, and PechaKucha are all marked by brevity and used to share ideas in conferences. Many industries have adopted these fast-paced rounds that allow participants to hear about a wide variety of topics they can provide feedback on later, but the formats of Ignite and PechaKucha take it a step further. Ignite talks give presenters about five minutes to fly through 20 slides that advance on timers. PechaKucha provides an extra minute and 40 seconds.
Panel and roundtable discussions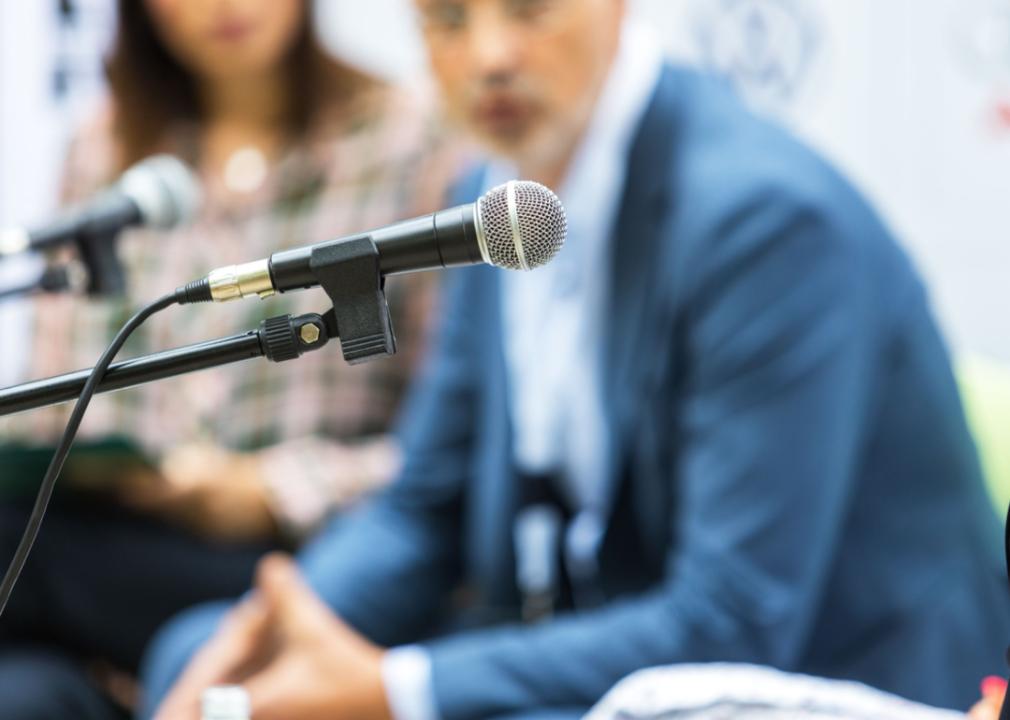 wellphoto // Shutterstock
The tried-and-true format of panel and roundtable discussions are still very common agenda items at a conference, though they tend to be most effective when conducted by participants engaged in face-to-face conversation (no unmuting needed!).
Panel discussions offer industry experts the chance to meaningfully share their smorgasbord of viewpoints around a specific hot topic, weaved together by a moderator. These types of discussions can be the crux of conferences by spotlighting complex subjects while positioning the panelists as thought leaders.
Panels allow for audience questions that make conversations feel more authentic and inclusive since the panelists may have to go off-script to respond meaningfully. This conference format doesn't necessarily guarantee equal speaking time for all participants but can be ideal for busy, high-profile spokespeople who lack the time to prepare a speech.
Fireside chats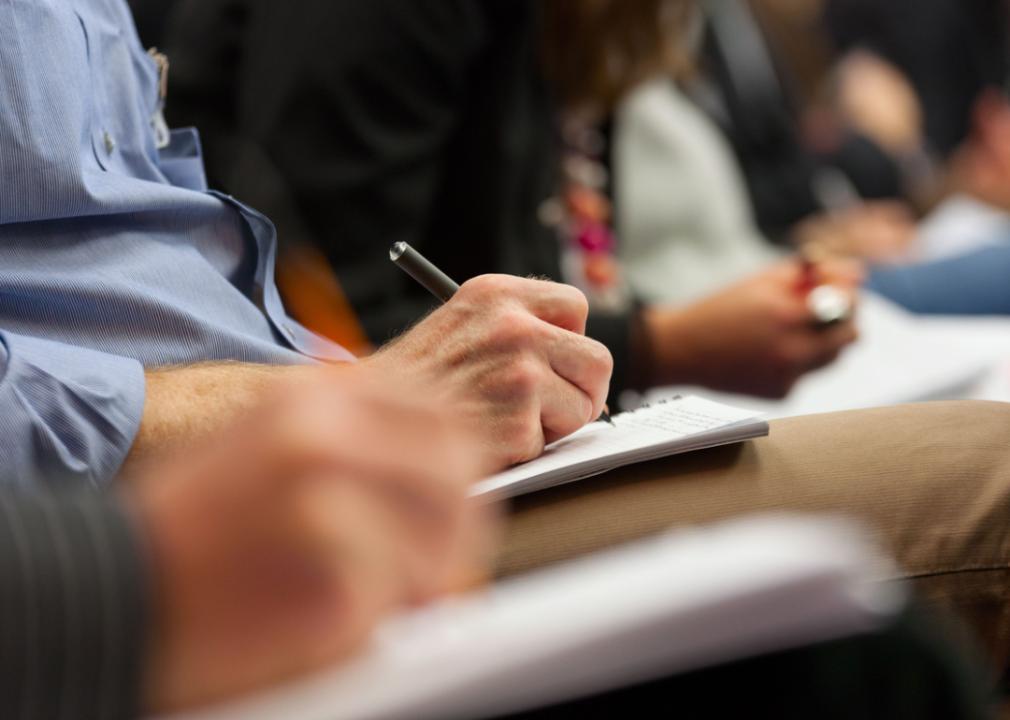 Rihardzz // Shutterstock
Fireside chats were born from a series of radio broadcasts by President Franklin Roosevelt, initially aimed to mitigate public concerns surrounding the Great Depression and World War II.
"Fireside chats" are now more commonly conversations rather than addresses and offer more engaging material at conferences than prepared keynote speeches. They feature strong interviewers (as opposed to moderators in panel discussions) who can seamlessly improvise and pivot the conversation with high-profile participants as needed.
Interviewees have the unique opportunity to showcase their personality during these chats, but they must be open to speaking somewhat off-the-cuff to discuss topics such as how their experiences shaped their perspectives of their work or broader viewpoints on the state of their industry.
Keynote addresses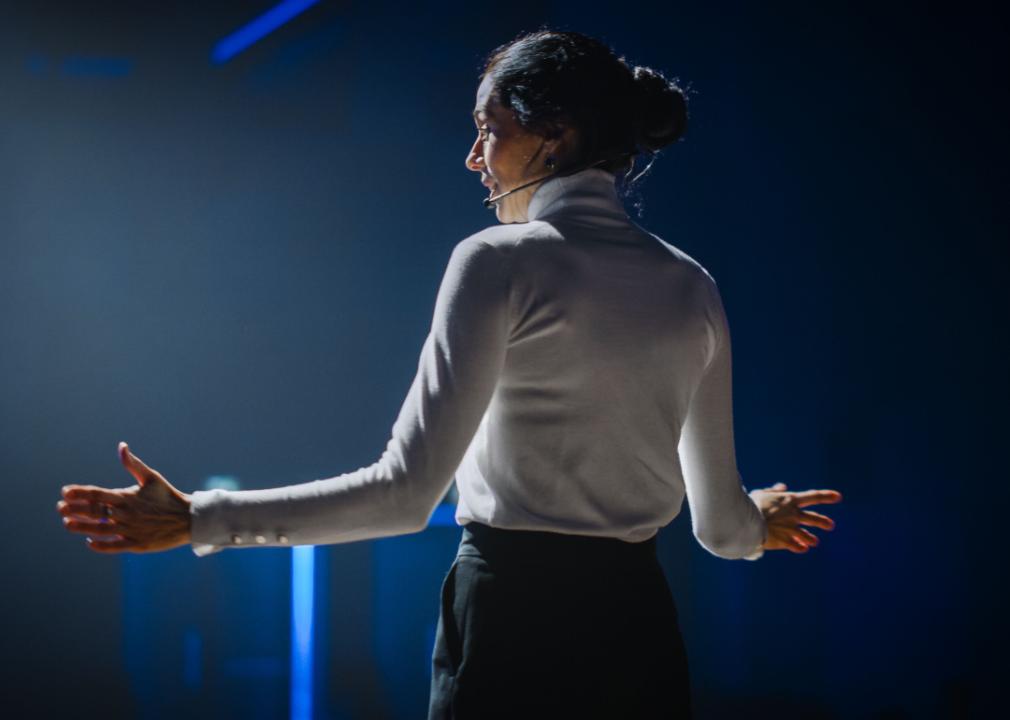 Gorodenkoff // Shutterstock
An invitation to give a keynote address is widely considered to be prestigious. The reputation and credibility of the keynote speaker can signal the noteworthiness of the conference to interested attendees.
The choice of a keynote speaker could be as obvious as a leading industry expert or as head-scratching as a celebrity like boxer Sugar Ray Leonard giving a speech to the Petroleum Equipment Institute. The sportsman makes $100,000 or more per speech at non-sporting industry events, according to Business Insider.
Keynote speeches are usually given at the beginning of or during significant moments of the event, and they are designed to cover big-picture themes to inspire attendees, lay the foundation of the event, and provide context on the theme and goals of the conference.
Breakout sessions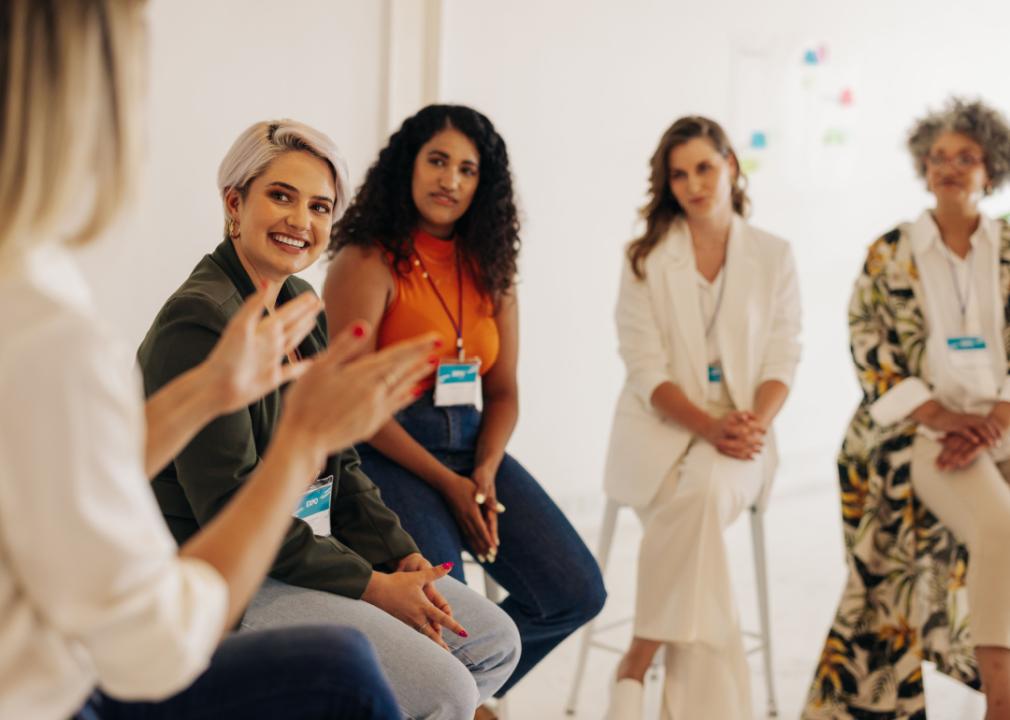 Jacob Lund // Shutterstock
For event organizers who want to achieve more tangible goals or have specific projects in mind, breakout sessions like workshops and training sessions are common. Individual sessions typically last a few hours and are usually embedded into a conference format, oftentimes before the event kicks off.
Breakout sessions can enable smaller, informal groups of industry experts to actively participate in training or facilitated work sessions that progress their skills, understanding, or the state of the industry itself. Workshops and training at conferences can be more appealing than other formats (like lectures) to people who are already considered experts, making the best use of their time with well-defined goals or projects to improve as a group.
Trade shows and exhibitions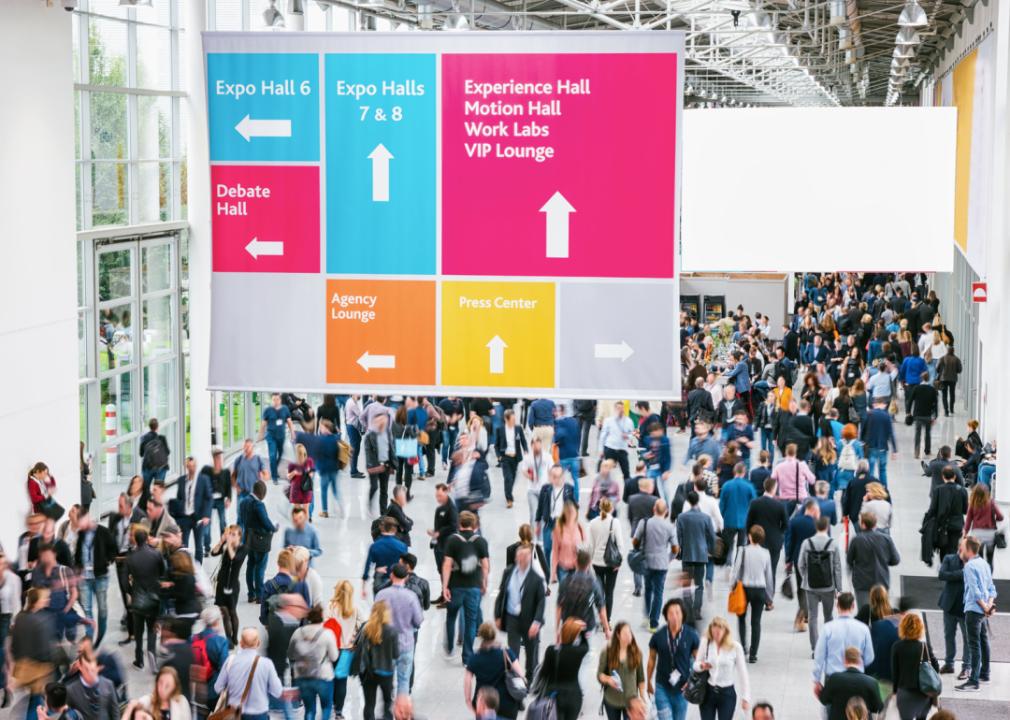 r.classen // Shutterstock
If you have a big enough budget and a compelling product or service to showcase, bringing an exhibit to a trade show can be worth $10,000 or more. Exhibitions are a strategy for a whopping 94% of marketers surveyed by the Center for Exhibition Industry Research. The center found that marketers have plans to participate in at least four exhibitions in 2022.
Creative partners can help execute a brand's presence at shows and expos to generate leads and increase brand awareness, and if they're lucky, what they create on the showroom floor can even help brands go viral.
Sometimes, the more outlandish the ask, the more engaging it is to the public. For example, a company asked cowboys at an exhibition and rodeo to try an electric period pain simulator. The video of the participants' reactions has over 1.8 million views as of August 2023, proving that period pain is as painful as women say.
In-person conferences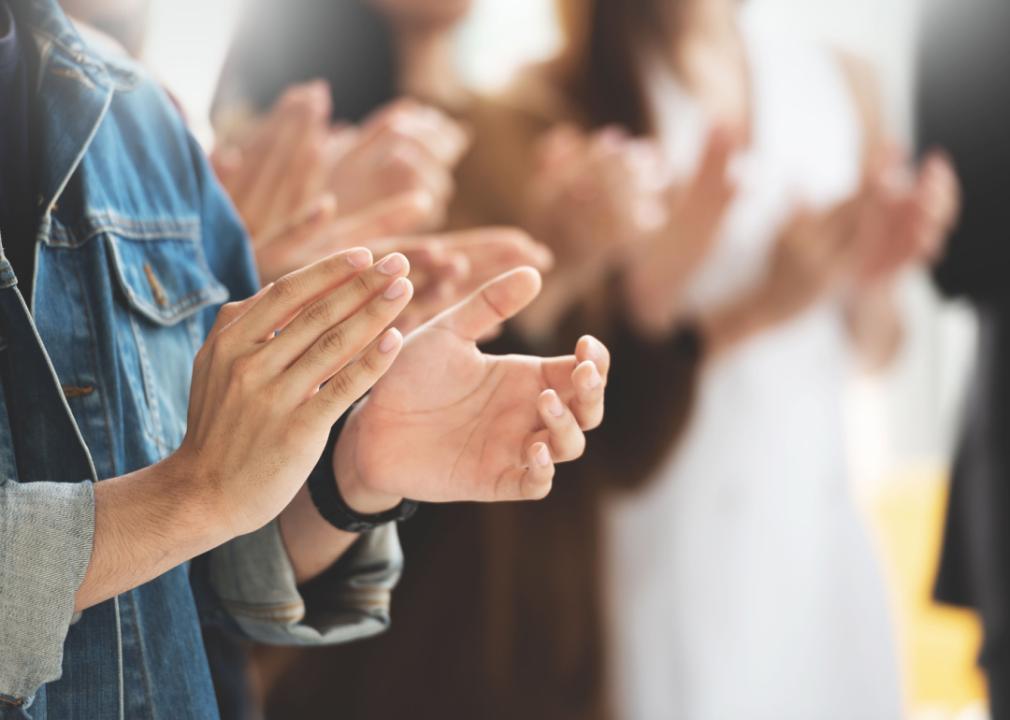 eggeegg // Shutterstock
The demand for in-person conferences has not gone away despite the pandemic pause. Virtual conferences will never usurp the connection and inspiration provided by in-person ones, according to 95% of event marketers surveyed by Bizzabo, an event software provider. However, in-person conferences can cost participants thousands, making the ability to connect with others, share unique experiences, access important, relevant content on-demand, and improve sustainability efforts crucial to attract attendees.
"Compelling, one-of-a-kind content makes the difference between ticket sales and simply logging onto YouTube," according to The Vendry report. Kara Dickerson, vice president for strategic partnerships and conferences at the Consumer Technology Association, told The Vendry: "There's a whole community of people saying 'We know we don't have to come in person anymore because we'll get it digitally.' So we are beholden to make sure each experience is not only a really strong one but the really right one, too."
Virtual conferences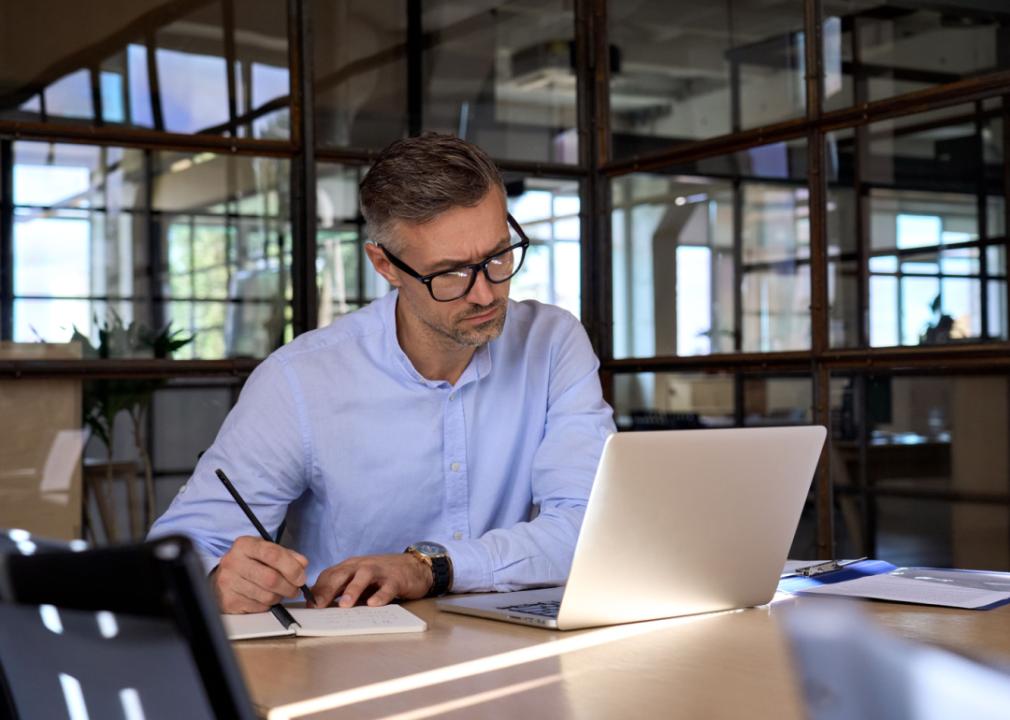 Ground Picture // Shutterstock
If you want to reach the most people possible with your message, virtual conferences can help you reach your goals while allowing organizers to gauge the success of their events with greater ease using digital measurement tools. Virtual conferences provide equitable access to information for geographically diverse attendees—and many are offered for free.
This format is undoubtedly more cost-effective and a great way to entice high-profile speakers and attendees from all over the globe without the major logistics of travel. However, keeping attendees engaged and giving them the ability to network is challenging. According to BlueJeans and Forrester Consulting research, 71% of event decision-makers think that the IRL experience cannot be replicated online.
Hybrid conferences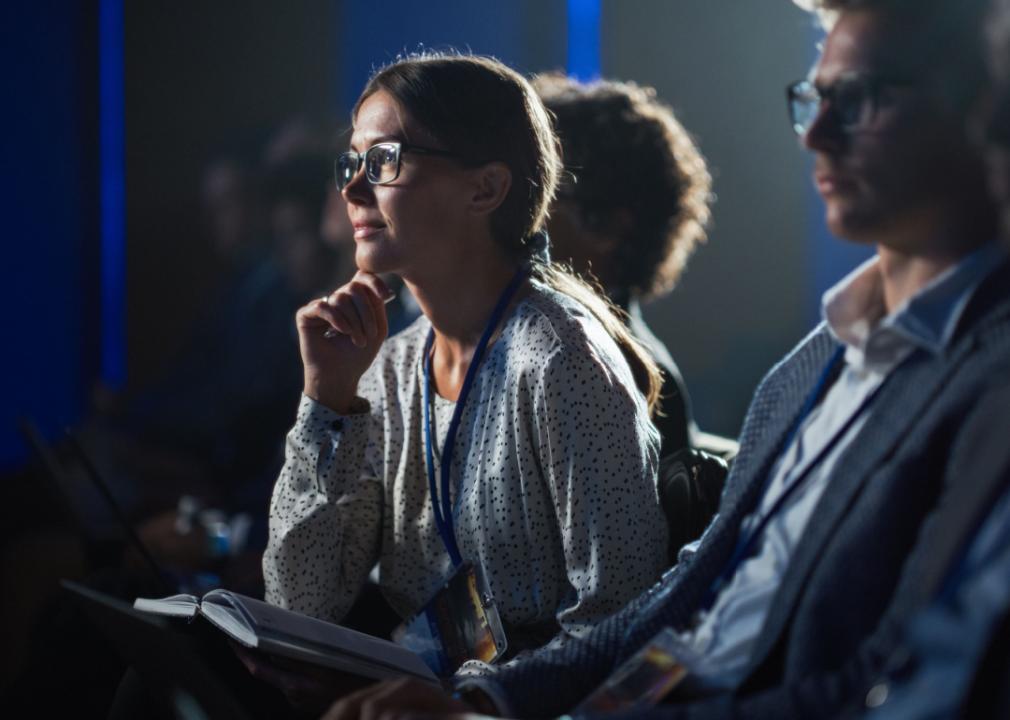 Gorodenkoff // Shutterstock
In-person meetings that are complemented by a virtual component are the future, say some executives, and, as of 2022, 70% of events used the hybrid format, according to Skift Meetings. These execs may be right; hosting a mix of virtual and in-person events is more complex than just doing one or the other, but it does allow organizers to take the best of both worlds as their team's capacity allows. Within hybrid conference formats, organizers can simply stream a physical event—or take on more complexity (and add more interaction among participants) by recreating IRL workshops, matchmaking, and exhibition halls in virtual spaces.
Story editing by Carren Jao. Copy editing by Tim Bruns.
This story originally appeared on Giggster and was produced and distributed in partnership with Stacker Studio.