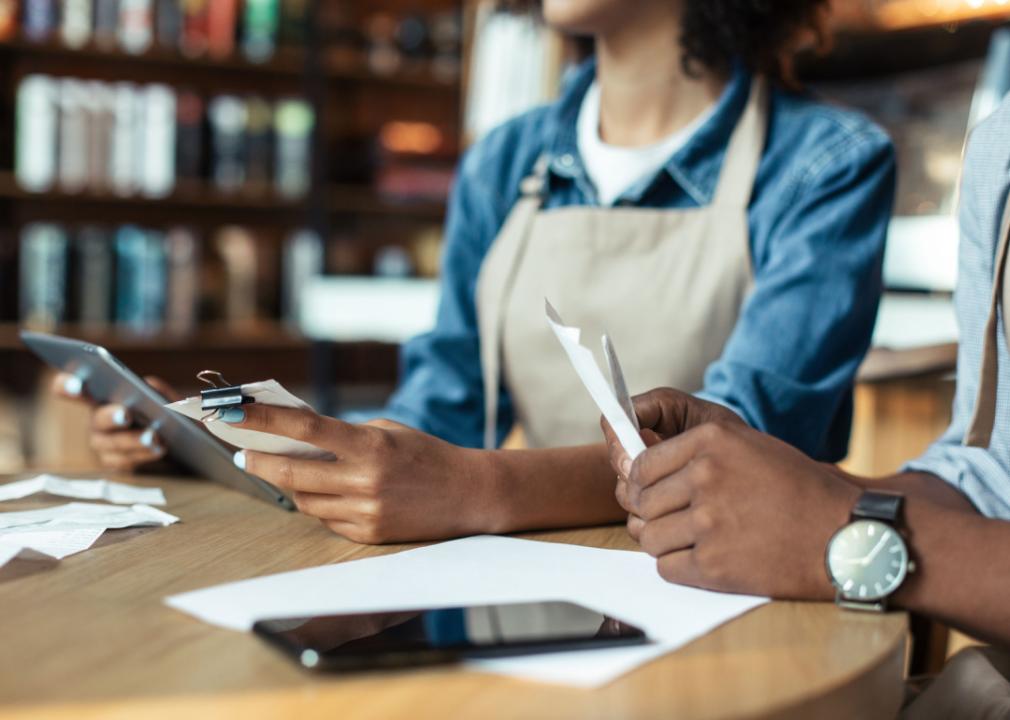 Prostock-studio // Shutterstock
Whether a startup is successful in its first year depends on a variety of factors—from industry type and location to funding and money management strategies. PlanPros investigated what it takes for a business to make it through its first year—a milestone that 1 in 5 companies don't achieve.

Entrepreneurship is a core tenet of American culture. As many as 55% of Americans have started at least one business in their lifetime, according to a 2019 survey by the Global Entrepreneurship Monitor consortium at Babson College. In fact, there are over 33 million small businesses—which have fewer than 500 employees—in operation today according to estimates from the Small Business Administration. However, the Bureau of Labor Statistics reports that since 1994, about 20% of new businesses have not survived their first year.
The success of a small business affects more than just the business owners' livelihood. According to the SBA Small Business Facts Report, small businesses are responsible for 2 in 3 jobs created in the past 25 years. Additionally, the SBA estimates that small businesses are responsible for about 44% of all economic activity in the United States.
Market research
According to a 2022 Skynova survey of 492 startup founders, 58% said they wished they had done more market research before starting their business. Put simply, market research involves evaluating how likely a product or service is to be received well by its intended customers.
Where a startup is based can have a significant effect on its finances. Business taxes vary across states, as does the availability of various government grant and loan programs designed to aid small businesses. Residents' purchasing power also ranges geographically. The first-year failure rate for small businesses by state ranged from 18.2% to 36.6% in 2019, the most recent data available—California had the lowest first-year failure rate, while Washington-based startups faced the highest first-year failure rate.
Startups can face certain advantages and disadvantages depending on the nature of their industry as well. According to the Small Business Funding lending agency, small businesses in the health care industry have the highest chance of surviving to at least their fifth year at 60%. Conversely, small businesses in the transportation industry have the lowest chance of surviving through their fifth year at 30%.
Funding and well-managed cash flow
The primary reason new businesses fail is due to a lack of cash or available financial support in its absence, according to the aforementioned Skynova report. In 2022, 47% of startup failures were attributed to a lack of financing or investors, while running out of money contributed to 44% of failures in the same year. A 2019 study funded by the SBA of 1,000 startup small business owners attributes 82% of startup failures to cash flow problems and mismanagement. These data point out the importance of adhering to a strict budget and limiting expenses as much as possible in the first year.
It is also important to identify potential sources of funding or support in advance of any immediate need. This can help prevent running into unsustainable growth. Many government programs exist to help startups survive, including state and federal grants, some of which are designated for certain demographics and industries. 
Even after a business is fairly well established, it is important to monitor cash flow closely. Businesses need to survive well beyond just the first year. According to data from the Bureau of Labor Statistics, roughly half of small businesses fail within five years. After 15 years, about 3 in 4 small businesses will have failed.
But the end of a company is not necessarily the end of entrepreneurship for every small business owner. A study by University of Michigan and Stanford economists suggests that business owners who start a second business after their first failures are more likely to succeed on their second attempt.
Story editing by Jeff Inglis. Copy editing by Tim Bruns.